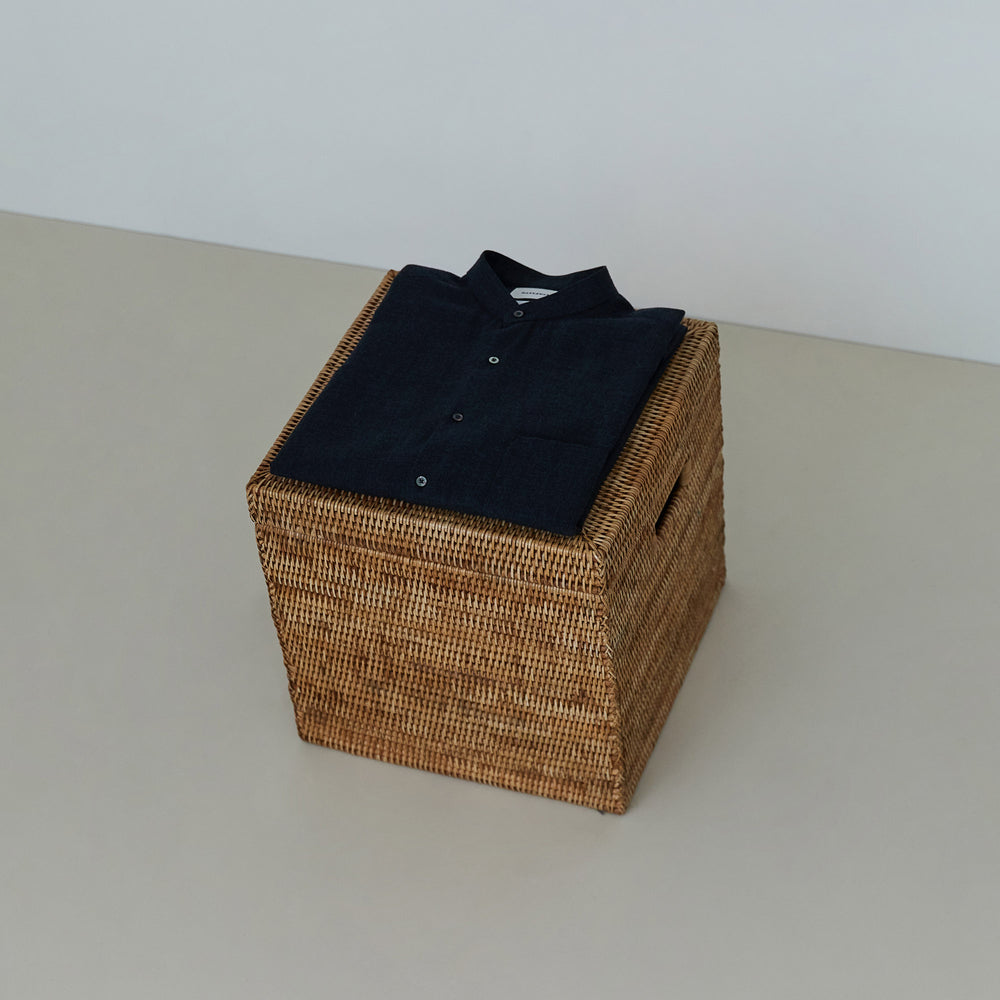 How to care of wool shirt
Wool shirts without inner linings are relatively easy to take care of at home. Essentially use brushing and steaming, and occasionally wash with water when parts are stained with sweat or other dirty substances.
However, felting tends to occur with wool fabric when it is wet or when subject to high humidity, friction, or pressure, so special care must be taken when using water.
In past times in Europe, woolen clothing was kept in shape using the minimum amount of water, as they naturally had no dry-cleaning technology. In modern times, however clean the method you use to wash your clothes, the washing is one reason for its deterioration. Because wool has a natural antibacterial effect, remember that it is better not to wash more than is necessary for the sake of the long life of your clothes and for the sake of the environment.
Check the Proper Care for Woolen Material Shirts video
Items to prepare
・Stain remover
THE LAUNDRESS stain solution works great for removing tough stains like wine and tea.
・Detergent for fine and delicate clothes
The LIVRE YOKOHAMA delicate fiber detergent for silk and wool is also appealing for its nice fragrance.
・Clothes brush
If you wish to be particular about the tools you use to take care of your clothing, the Ishikawa brush, which can be used for delicate baby cashmere, is recommended.
・Iron
An iron with an even flow of steam and considerable weight to straighten out the wrinkles would be ideal. The ironing table should be as flat as possible.
・Press Cloth
You can keep the fiber from being crushed with the iron press by using a press cloth.
・Towel (or Cloth)
An ideal type would be a material which thoroughly absorbs water and stains that are brought to the surface with the detergent, as well as being resistant to shedding fiber.
・Steamer
Choose a type which doesn't let out so much steam as to cause water to drip and stains to develop.
・Ultrasonic washer
Using SHARP's ultrasonic washer will dramatically and quickly remove dirt and stains on sleeves and cuffs.
・Scrub brush
Choose a brush that is relatively heavy to pat the dirt and stains off, rather than scrubbing them off.
・Washtub
Use one which has some depth so that the folded shirt fits in well.
Tip 1 Visually check your clothes
Take a good look all over your clothes to check where the stains and dirt are. Decide which spots you need to take care of. Major points to check for are general stains, stains from spilled food, and scratches. Carefully check the collars, pockets, and behind the hems and sleeves.
Cloth fabric is characterized by a tighter spun and neatly aligned fiber, so it is harder to fuzz and pill compared to knitwear. Thus it can be said that woolen shirts are easier to care for at home.
Tip 2 Daily care by brushing and using a steamer
Daily care is to be done by brushing and using a steamer. Washing is a greater factor in shortening the life of clothes than wearing them. Reducing the number of times you wash them allows the feel and texture to last longer.
After wearing the shirt, hang it on a hanger and snap your wrist to brush and rake the dust out from the collar down to the shoulders, arms, and all over.
If there are noticeable odors and wrinkles, apply full steam and let it dry in a well-ventilated place.
Tip 3 Partial wash using a scrub brush on the collar and cuffs
Clean dirty or stained areas on collar and cuffs. Mix liquid pH neutral detergent and water in a 1:1 ratio in a spray bottle, then spray onto the stains.
Apply a towel under the shirt to prevent the dirt and stains from spreading.
Once the stain blends with the detergent-water solution, pat the area with a slightly large scrub brush. Don't scrub vigorously since this will cause felting. Let it stand in the shade for about thirty minutes. Having an ultrasonic washer comes in handy when removing such partial stains. Dirt and stains can be quickly and dramatically removed with the ultrasonic vibration. Once the partial washing is done, proceed to wash the entire shirt.
Tip 4 Slowly hand-wash by pressing the shirt so as to soak the fiber in water
Wash the shirt by hand for special care at such occasions as the end of the season.
First, pour lukewarm water (approximately five liters) into a washtub or washbasin, pour in pH neutral detergent (approximately five milliliters.) and mix well. You can tell that it is evenly blended when the surface is slightly foamy and bubbly.
Place the partially washed shirt into the water, then slowly and gently press to wash by hand for about five minutes. Imagine you are forming a current inside the fiber to soak the soapy solution into it. Let the solution spread thoroughly to every corner. Once you take out the shirt, place it in the washer without wringing it and spin-dry for one minute.
The next step is to rinse. Replace the lukewarm water in the washtub, then press to wash and remove the detergent solution. The first rinse should be the same temperature as the soapy water. Then rinse a second time with water at room temperature. Repeat this twice, spin-drying each time for about one minute.
Tip 5 Hang the shirt indoors away from direct sunlight
Once you have finished washing it, spread the shirt and stretch it out. Use your hands to pat places where there are large wrinkles to put into them shape.
Unlike knitwear, fabric cloth does not stretch easily, so it is okay to hang it on a hanger or clothesline pole. The key is to avoid direct sunlight and dry it indoors where the air is circulating by convection. Rapidly drying the shirt down to a humidity level below the natural level of wool might change its texture, and the ultraviolet rays may cause color fading with fibers containing dyes.
When a towel dried in direct sunlight becomes stiff, this phenomenon is occurring. Woolen shirts should be placed near an electric fan, circulator or air conditioner, so as to consciously let high humidity circulate around them.
Tip 6 Iron-dry and steam as the final finish
Most wrinkles on woolen shirts will be removed with a steamer, but ironing is recommended for smoothing the particularly severe ones or to shape the collar well.
First, smooth the wrinkles and shape the collar with steam, then switch to dry and start ironing without moving the shirt. This allows the vapor left in the fiber to evaporate and gives a crispier and sharper finish. When ironing, use a press cloth to prevent the shirt from damage and glossy discoloration.
Set the iron temperature at medium (a maximum of 150 °C).
Q&A How often should I wash the shirt?
Since woolen shirts have no inner lining like coats and pants, there is no need to wash them as a general rule. If you are going to wash your shirt with water, keep it down to about once a season. But you do need to give special partial care on the collar and cuffs since they get dirty and stained easily.
The amazing deodorizing effects and breathable/waterproof quality of wool are well attested by the many outdoor brands releasing wool material innerwear one after the other. You can spend days in comfort without worrying about odors in an environment where you can't take a shower. An important thing to keep in mind to be able to wear the shirt for as long as possible is to let it rest for a couple of days after wearing it.