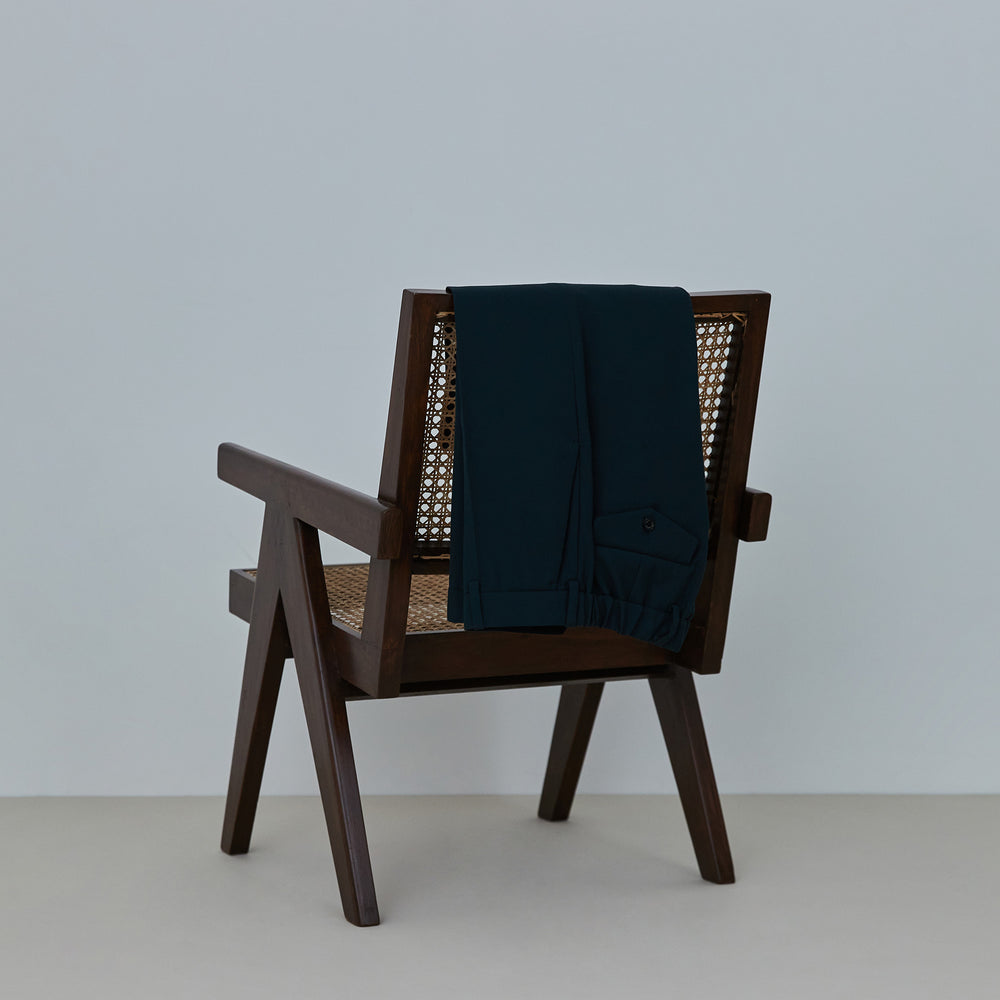 How to care of wool pants
Wool has an intrinsic antibacterial property, so it tends to stay free from odors and stains. The surface of the fiber is scale-like, with hydrophobic properties that repel water. Moreover, it is hydrophilic inside, so it absorbs and exhales water vapor from your body .
It is higher in hygroscopicity and moisture permeability than cotton, and excellent in heat insulation with its coil-like crimped fiber containing a lot of air. Wool is a high-functioning natural material which cannot be made scientifically.
Given these points, brushing and steamer care at home are sufficient for daily care of woolen pants. For partial stains, spot cleaning will do. On the other hand, ironing is important, so as not to lose the crease lines which make a great difference to your styling and the look of the pants.
Check The Proper Care for Woolen Material Pants video
Item
・Stain remover
THE LAUNDRESS stain solution works great for removing tough stains like wine and tea.
・Detergent for fine and delicate clothes
The LIVRE YOKOHAMA delicate fiber detergent for silk and wool is also appealing for its nice fragrance.
・Clothes brush
If you wish to be particular about the tools you use to take care of your clothing, the Hirano brush with its long bristles enabling good brushing or the Ishikawa brush, which can be used for delicate baby cashmere, are recommended.
・Iron
An iron with an even flow of steam and considerable weight to straighten out the wrinkles would be ideal. The ironing table should be as flat as possible.
・Towel (or Cloth)
An ideal type would be a material which thoroughly absorbs water and stains that are brought to the surface with the detergent, as well as being resistant to shedding fiber.
・Steamer
Choose a type which doesn't let out so much steam as to cause water to drip and stains to develop.
・Hanger with clips
A metallic hanger with rubber-tipped clips that can hold the weight of the pants is recommended.
・Press Cloth
You can keep the fiber from being crushed with an iron press by using a press cloth. Rayen's 100% cotton press cloth is convenient for checking the position of the clothes while ironing due to its moderate sheerness.
Tip 1 Visually check your clothes
Take a good look all over your clothes to check where the stains and dirt are. Decide which spots you need to take care of. Major points to check for are general stains, stains from spilled food, and scratches. Carefully check the waist, pockets, and inner lining.
Sweat stains, which are of the greatest concern with pants, are water soluble, so they can be removed mostly with only water. Care by hand-washing with a dampened towel (or cloth) or steamer will do.
Tough stains such as food or sebum can be removed with detergents for fine and delicate clothes, or stain removers.
The lining of pants are often made of cotton or cupra, so care by steamer only is highly recommended for stains on them.
Tip 2 Remove dust by brushing
First, clip the pants onto the hanger and remove dust overall. The rule for brushing is to dust from top to bottom, with particular care around the waist.
Dust and lint tend to collect on parts where there are a lot of protrusions such as belt loops, front buttons, and pockets, so make sure to rake them all out completely. Pick off other large pieces of dust and waste with your fingers.
The insides of the pockets are often forgotten so be sure to turn them inside out and clean them. If the pants are double-hemmed, dust tends to collect inside the hems, so be sure to turn them inside out to clean them as well.
If the wool fiber is irregular, dust sticks easily, causing pilling. Raking out the dust and adjusting the hairs is important not only to improve the texture and luster of the original material but also to prevent pilling.
Tip 3 Use a steamer on pants clipped to a hanger
Steam by hanging the pants upside down with the insides of the hems clipped onto a hanger. Use the weight of the waistline to gently pull the cloth as you move the steamer up and down, so that it is easier to smooth the wrinkles.
When applying steam on the entire pants, take special care on the parts behind the knees and inner crotch where wrinkles from sitting occur. A steamer will be more useful than an iron for the inner crotch of pants with complicated patterns in particular.
Since pants have a larger surface in direct contact with your skin than a coat or a shirt, it is recommended that you care for the inner lining at the same time as well. Apply high temperature steam to prevent odor and bacterial growth.
Tip 4 Iron before the creases disappear
Iron your pants to let the crease line stand out. The major reason why creases disappear is due to sitting with your legs crossed. You could either iron the pants frequently after taking them off, or have the dry cleaners apply the Siroset process at the start of the season to retain the shape of the crease.
Thanks to their pattern, it is easy to align the creases from the hems and under the knees, but you need to pinch the excess material of the inner crotch as you iron above the knees. It is not good to press the iron very firmly onto the cloth or over the cloth again and again, since this causes damage and glossiness. Apply a press cloth and keep the iron as straight as is possible.
It is a good idea to rotate your pair of pants with an interval of two to three days so as to have them last longer.
Tip 5 Store pants clipped onto a hanger upside down
Clip the pants on a hanger with the hems up. Clip only the insides so that the clip marks don't show when you wear the pants. It is good idea to insert a belt through the beltloop so that its weight helps to keep the pants firmly pulled down during storage.
In case of raised fabric, brush again at the end to finish. Brush the inside and outside from top to bottom to align the hairs to make it complete. When storing them, try to leave as much space between each hanger as possible to prevent wrinkles and secure air permeability.
Q&A How to fold pants to store them in a closet
Properly align the creases and fold in half, trying to avoid as far as possible folding the creases. Even if there is limited space, keep the number of folds down to three. Be careful not to stack too many clothes on top of them. If you store your pants folded, lightly smooth the wrinkles with a steamer before wearing them. When you consider the process involved, it might be better to store your pants clipped onto hangers.